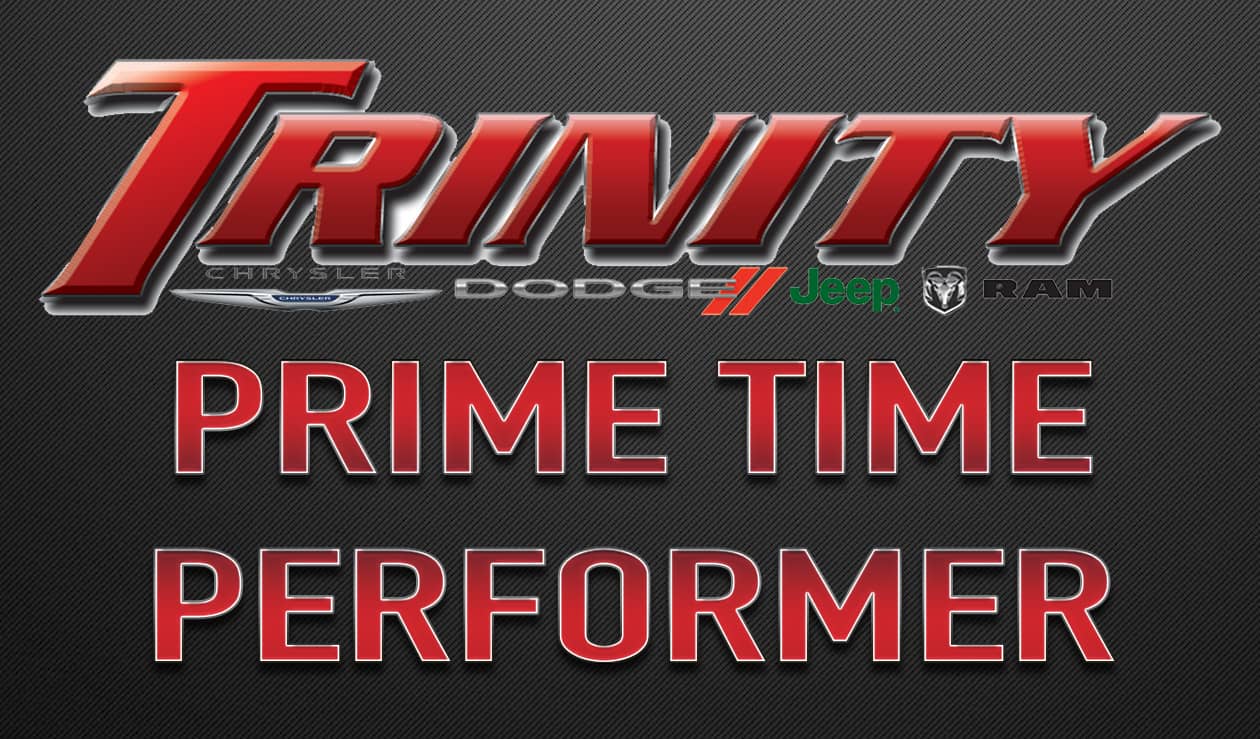 Here are this week's candidates for the Trinity Chrysler Dodge Jeep Ram in Taylorville Prime Time Performer.
You can vote once every 12 hours until the polls close on Friday at 5 p.m.
The winner will receive a $20 gift card to Dublin Pub.
Camren Bigard (Athens Football) The Warriors picked up a 34-13 round two win over Red Bud on Saturday at home. Bigard led the team rushing for three touchdowns and finished with 83 yards. Highlights of the Athens victory HERE.
Andre Harden (Maroa Forsyth Football) The Trojans will host a 2A quarterfinal at Walter Boyd Field next weekend after a 42-6 win over Momence in round two. Harden had six carries, 70 yards and two touchdowns including a 49 yard TD. He also had two receptions for 36 yards. See the highlights of Maroa Forsyth round two win HERE.
Becca Heitzig (Lincoln Cross Country) Hetizig can add state cross country champion to her resume after winning the 2A state championship at Detweiller Park in Peoria. That win came the morning after helping the Railers win a volleyball super sectional for a trip to state. Heitzig won the state title with a time of 16:34.75, five hundredths of a second ahead of second place. Check out the highlights of the victory HERE.
Johnny Helm (Glenwood Football) The Titans got a big 52-51 win in overtime over Oak Lawn Richards on Saturday in round two of the 6A playoffs. Helm made a game securing tackle to stop the go ahead two point conversion. He also had eight catches for 105 yards and two touchdowns in the win. Highlights of Glenwood's win HERE.
Mason Jacobs (Rochester Football) Rochester is onto the 4A quarterfinals after a 45-3 win over Coal City on Friday night. Jacobs had a big night on defense with two interceptions. One of those interceptions was taken back for a 70 yard pick six. Highlights of the victory HERE.
Zach Keedy (Olympia Football) The Spartans return home to host another 3A quarterfinal this weekend after a 40-20 victory over Greenville in round one. Keedy got the scoring started for Olympia with a rushing touchdown. He would go on to finish with three rushing touchdown and another in the air. Check out the highlights of the win HERE.
Landon Kutscher (Rochester Girls Soccer) The Rockets made a trip to state this week and brought home a fourth place finish. In the 2A Jacksonville Super Sectional, it was Kutscher who scored the game winning goal with 13:13 left in the first half to help lead Rochester to the 1-0 win. See highlights of the super sectional victory HERE.
Ali Londrigan (Glenwood Cross Country) The Glenwood Titans brought home a 2A state cross country title on Saturday which is their second state championship of 2023. Glenwood picked up the team win with their top five finishers taking 7th, 11th, 24th, 36th and 42nd. Their leading finisher was Londrigan in seventh with a time of 17:40. Highlights of the race HERE.
Claire Long (Pleasant Plains Volleyball) The Cardinals won a sectional title on their home court last week with a 2-0 victory over Illini West. In the win, Long finished with 17 assists and five digs. You can see highlights of the win HERE.
Owen Pacetti (Normal U-High Boys Soccer) The Pioneers traveled north to Hoffman Estates for the state finals last week. In the semifinal game, it was Pacetti who scored and put U-High ahead with 27:01 left in the first half. They would go onto win 2-0 and advance to the 1A state title game where they brought home a second place finish. You can see the highlights thanks to WMBD HERE.
Peyton Sasse (Lincoln Volleyball) The Railers had a busy week with a sectional title win on Wednesday and a super sectional win on Friday. In the 2-0 sectional title win against Normal U-High, Sasse had nine kills, three aces and seven digs. In the 2-0 super sectional win against Mascoutah, she had 10 kills and seven digs. Highlights of the sectional win HERE and the super sectional win HERE.