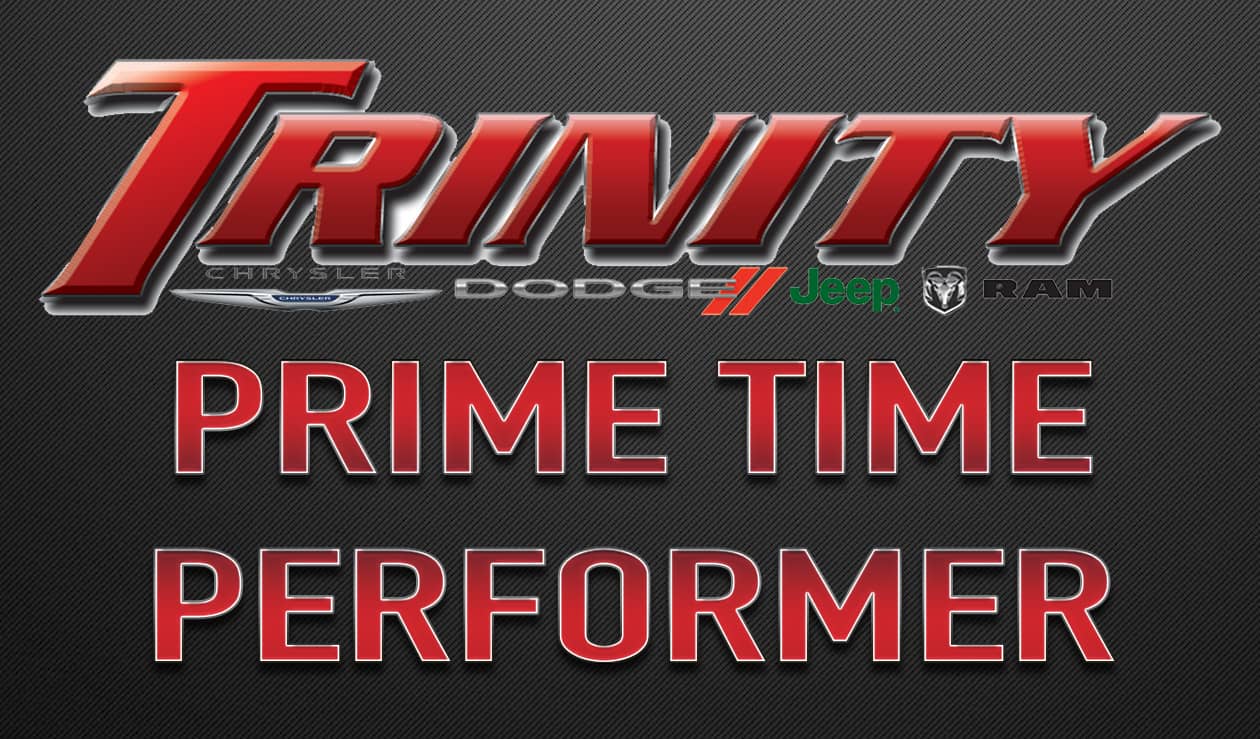 Here are this week's candidates for the Trinity Chrysler Dodge Jeep Ram in Taylorville Prime Time Performer.
You can vote once every 12 hours until the polls close on Friday at 5 p.m.
The winner will receive a $20 gift card to Dublin Pub.
Caitlin Defreezer (PORTA Volleyball) The Bluejays won their first regional title in almost 50 years with a 2-0 win against Williamsville on Thursday. Defreezer was consistent throughout the regional picking up assist after assist. PORTA travels to the 2A Pleasant Plains sectional starting Monday. See the highlights of the regional title win HERE.
Parker Gillespie (Rochester Football) The Rockets are on to round two of the playoffs after a victory over Lincoln on Friday night. Gillespie rushed 4 times for 67 yards and three touchdowns in the win. He also completed four passes for 60 yards and a touchdown. Check out the highlights of Rochester's victory HERE.
Ethan Hagele (Sacred Heart Griffin Football) The Cyclones made the long trip north to Thornton Fractional North and brought home a 23-0 round one win. Hagele got it done on both sides of the ball with some big plays on defense and scored a rushing touchdown. Highlights of the victory HERE.
Becca Heitzig (Lincoln Girls Cross Country) Heitzig won an individual sectional title on Saturday at the 2A Jacksonville sectional to punch her ticket to state next weekend. She finished in a time of 16:26.9.
Colten Knoedler (Glenwood Football) A big win for Glenwood in round one with a 63-28 win over Bloomington. In that win, Knoedler went 14 for 18 for 316 yards and six touchdowns. Highlights of that round one playoff victory HERE.
Zac Laird (Athens Football) The Warriors scored 26 points in the second half as Athens picked up a 33-7 victory over Piasa Southwestern on Saturday. In the win, Laird had four carries for 55 yards and a touchdown. He also caught three passes for 66 yards and another touchdown. See the highlights of the win HERE.
Sydney McAfee (Pleasant Plains Volleyball) The Cardinals return home this week to compete in a 2A sectional after winning the North Mac regional on Thursday. In the 2-0 win over Athens, McAfee finished with 13 kills and 8 digs. Highlights of the regional title game HERE.
Robyn Odugbesan (Taylorville Volleyball) Taylorville heads to the 3A Southeast sectional starting Monday after a 2-1 win over Rochester in the regional final. In that win, Odugbesan had 11 kills and two blocks. See the highlights of the regional championship game HERE.
Nic Olson (Olympia Football) Olympia picked up a 20-17 win over Litchfield in round one the playoffs on Saturday. In the win, Olson had seven carries for 102 yards and two touchdowns. Check out some highlights of that win thanks to WMBD HERE.
Addison Qualters (Lincoln Volleyball) Lincoln travled to Champaign Central last week for a 3A regional and picked up a 2-0 win over the hosts in the title game. Qualters finished the title game with 28 assists and five digs. The Railers head to the Southeast sectional this week. Some highlights thanks to WCIA HERE.
Jack Reid (Rochester Boys Soccer) The Rockets are heading to a super sectional on Tuesday after a 1-0 sectional title win on their home field Saturday morning. It was a goal from Reid with 20 minutes to play that helped secure the win for Rochester. Check out the highlights HERE.
Grant Smith (Maroa Forsyth Football) The Trojans picked up a round one win at Walter Boyd Field on Saturday. In the win, Smith had some big plays on defense with two interceptions. One of those INTs was returned for a touchdown. He also caught one 41 yard pass on offense. Some highlights of the win HERE thanks to WCIA.
Levyn Snow (Normal U-High Volleyball) The Pioneers are regional champs after winning the title game 2-1, at home, over Mahomet Seymour. Snow had 12 kills, 12 digs and one ace in the victory. U-High heads to the 3A Southeast sectional starting on Monday. Check out the regional championship highlights HERE.
Mo Wiezorek (Glenwood Volleyball) The Titans are regional champions for the first time in 12 years! Glenwood picked up a 2-0 win over Mt Zion in the title game. In that victory, Wiezorek finished with 19 assists and seven digs. The Titans travel to Southeast for the 3A sectional this week.