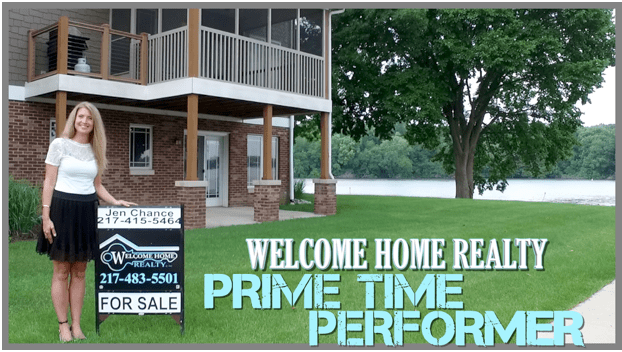 Here are this week's candidates for the Welcome Home Realty Prime Time Performer.
You can vote once every 12 hours until the polls close on Friday at 5 p.m.
The winner will receive a $20 gift card to Mariah's.
Grayson Mirabile (Williamsville Soccer) Williamsville's stellar freshman had herself a day against Athens has she netted all three of the goals for the Bullets. She scored two the three within 30 second to help lift Williamsville to third place at the Plains Invite.
Kate Mathews (Glenwood Soccer) After Gigi Yurevich went down due to injury, Glenwood went next man in as Kate Mathews came in to play keeper against Maine South. After a high scoring game that needed pks it was Mathews who would step up and get the game winning save despite having no game experience.
Drew Henrikson (Rochester Baseball) The Rocket with the rocket arm had himself a day against a very talented U-High lineup. The junior had seven strikeouts and only gave up a handful of hits in 6 1/3 innings to help the Rockets sweet the Pioneers.
Jen Kuhn (U-High Softball) Kuhn was on her game early against CS8 visitor Rochester as she record 8 strikeouts in the first four innings. She totaled 13 ks and even blasted a two run home run to help the Pioneers stay perfect in CS8 play.
Tre Corley (Maroa-Forsyth Baseball) Maroa-Forsyth has been playing some of the best baseball in the Sangamo and a big reason for that has been Corley. After  strong outing that saw the Trojans upset Plains, Corley added five more RBIs in a dominant Sangamo win over Athens.
Serena Bolden (Southeast Track) Bolden continued her dominance on the track as she led Southeast to their first City track title since 2015. The future LSU Tiger won four events and paved the way for the Spartans first place finish.
Adam Passmore (Springfield Baseball) Springfield was looking for a share of the 2019 City baseball title and as they faced Lanphier, Adam Passmore left no doubt. Passmore only walked one batter in a five inning no hitter against the Lions that would secure a share of the City baseball title.
Daleny Chumbley (Tri-City Softball) Tri-City hit the 20 win mark for the 10th time in 11 years thanks to a big game by Daleny Chumbley against Plains. The Tornado pitcher tossed 11 strikeouts in a complete game shut out to help Tri-City get the convincing win against the Cardinals.
Brannan Kraft (SHG Baseball) Kraft had a strong day to help SHG's City title hopes in the Cyclones' opening game against Southeast. Kraft tossed 6 strikeouts and only gave up two hits to help SHG cruise to a 7-0 win.
Riah Irwin (Rochester Soccer) When Rochester needed a spark the most Irwin was their to provide it as the Rockets took on U-High. Irwin found herself in perfect position with 90 seconds left to play to net the final goal of the game and give Rochester the 2-1 CS8 win.
Taylor Danner (PORTA Softball) Danner came out swinging a the Bluejays took on undefeated conference rival Maroa-Forsyth Last Tuesday. The senior had multiple hits that included a solo home run to give PORTA the 8-2 win and help the Bluejays stay undefeated in Sangamo play.