Let's start the argument by saying this is not an official award, simply a discussion about the candidates for Central State Eight most valuable player after the 2018 season. We contacted every head coach in the conference and heard back from seven of them. We asked for their team's MVP and who they thought was the MVP of the conference this season.
We will list each school in order of where they finished in the conference and nominate one player for MVP and list a few honorable mentions. Our selections or each coach's selections may not be reflected in the final voting numbers, as it will be up for a popular vote on the website. The winner of the poll on Friday, November 23, 2018 will receive a $20 Mariah's gift certificate.
Here we go:
Rochester –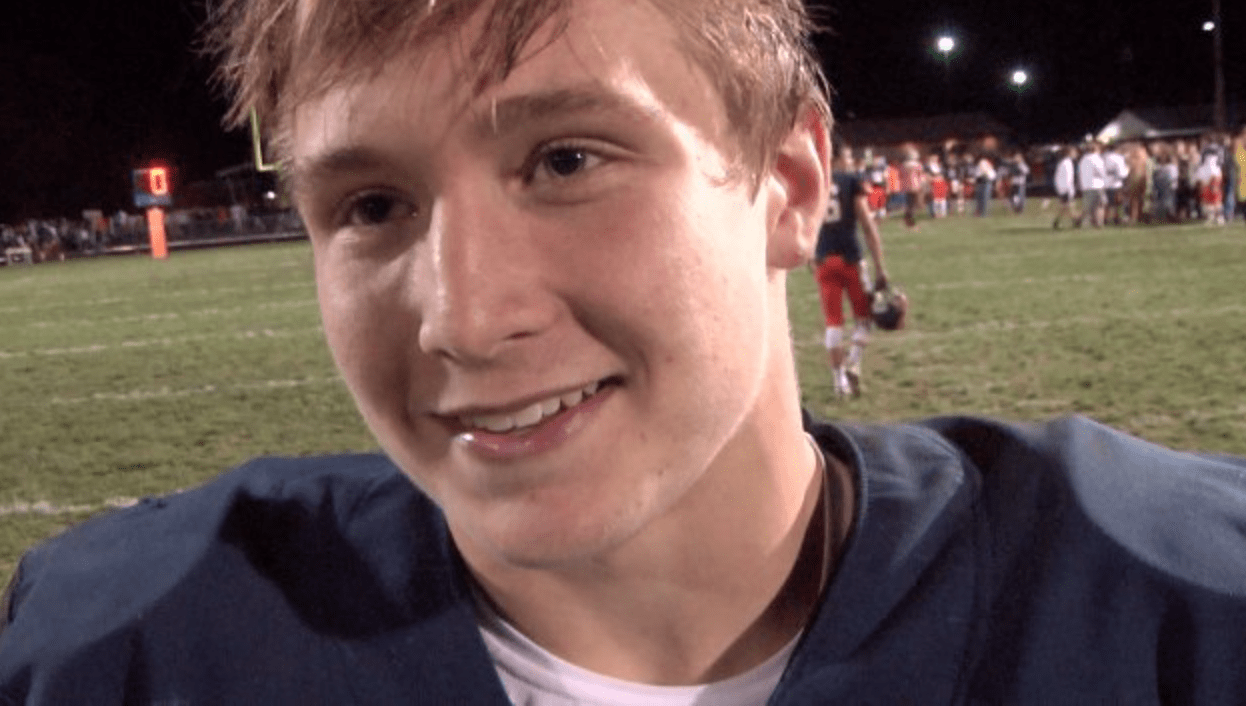 MVP – Riley Lewis –
When you lead the Rochester offense in catches and yardage for a season (727 yards and 10 receiving touchdowns), people should take notice. Riley Lewis is a force on both sides of the ball (2 interceptions & 19 tackles) for the Rockets. Head coach Derek Leonard said, "I would say Riley Lewis. (He) leads the team in receptions and yards and is our best defensive player also.  And I would say he actually is the player of the year in the conference.  I think he is one of the best offensive players and maybe the best defensive player in conference. (cont.) I think there are some other really good players but don't know if anyone is as dominant on both sides of ball."
Honorable mention- Cade Eddington – An all state wide receiver selection this season, Eddington also plays on both sides of the ball for the back to back conference champions. Another head coach in the conference said Eddington was the MVP of the league because:  "I think he is a dominant force and makes plays in big games.  There are a lot of great players in the CS8, but the greatest players make big plays in big games."
Glenwood –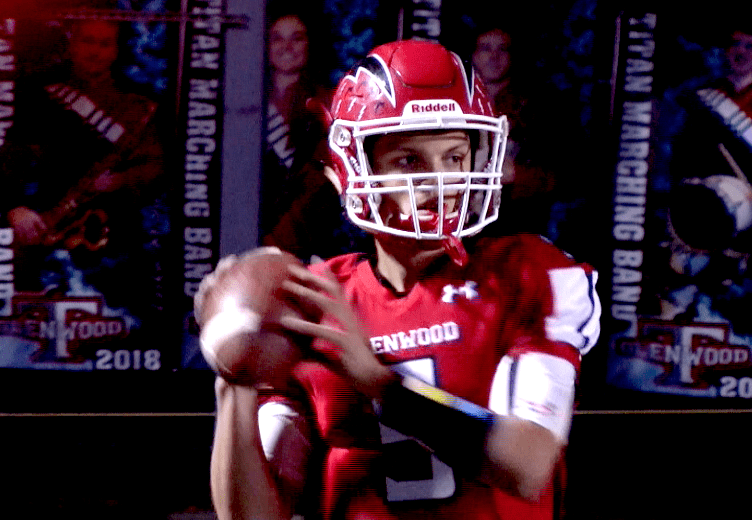 MVP – Luke Lehnen – 
Three of the seven coaches who responded to our request said Luke Lehnen was the MVP of the league and our office finds that hard to disagree with. The Titans quarterback was selected as the only junior to the 6A all state team by the IHSFCA. Lehnen led the Titans to their first conference title since he's been alive and was a major factor in Glenwood's key wins throughout the season over Sacred Heart Griffin, Springfield High and MacArthur.
One CS8 coach said – "He was the best player in the conference, on a conference co-champion making the most plays that effected the outcome of the conference. He has the stats that back it up with 1,659 yards passing, 1,004 yards rushing and 40 TD's (passing and rushing)."
Honorable mention – Austin Schiff, senior running back, who stepped up big when junior tailback Jason Hansbrough went down with an injury. Schiff kept defenses in the CS8 honest knowing they didn't have to just stop Lehnen when Hansbrough was out.
Sacred Heart Griffin –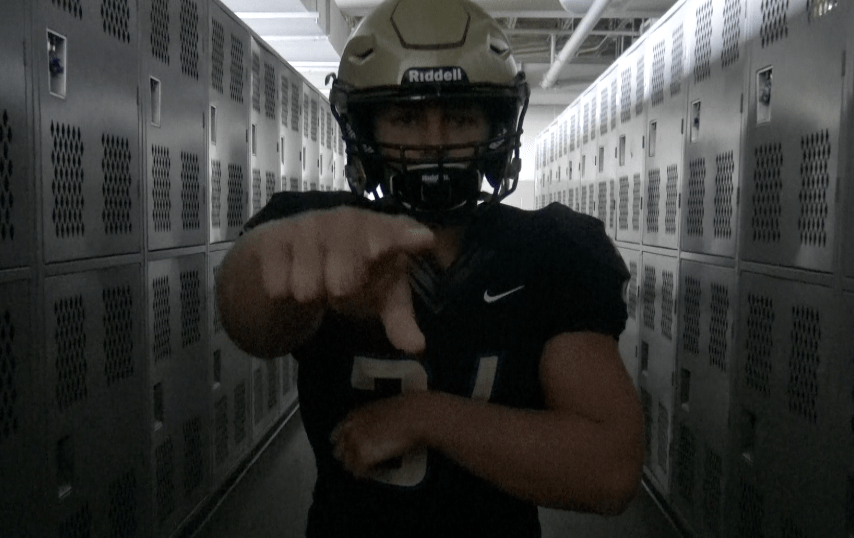 MVP – Matt Brenneisen – 
Every opposing player in the conference who touched the ball against SHG had at least one eye looking out for Matt Brenneisen on defense. SHG's all state selection in 6A led the league in tackles (128) for the third straight season. Brenneisen was also an all state caliber punter and played some offense as well, averaging 8.4 yards per carry.
Honorable mention – Cade Holloway – Consistency is key for the Cyclones and Cade was as steady as they come. An all conference selection, Holloway was a standout wide receiver this year, an excellent kicker and simply seemed to be involved in every play.
Springfield High –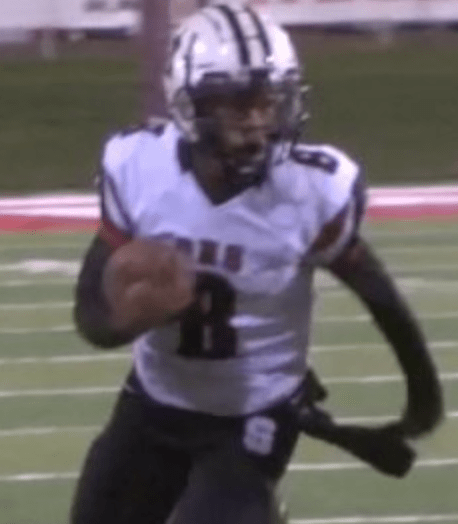 MVP – Rashad Rochelle – 
The game of the season in the Central State Eight saw Springfield High beating Sacred Heart Griffin for the first time since 1999, long before Rochelle was even born. Rochelle threw for three touchdowns and rushed for another against the Cyclones and that was about an average output throughout the season. Rochelle, as only a freshman, made the Springfield High offense click all throughout the season and was a major reason why the Senators were a threat each and every night to beat any team in the CS8. A season like he had has never been accomplished by a freshman quarterback and this conference has seen it's fair share of exceptional quarterbacks.
Honorable mentions – Cam Jones – An all state wide receiver his junior year, Cam Jones finished out his career as a Senator as we expected, a serious scoring threat every time he touched the ball. Jones had over 4,000 career all-purpose yards and 42 total touchdowns as a Senator.
Caleb Small – The true definition of a leader on the defensive side of the ball, Small picked up over 160 tackles in his career even after missing much of his junior year with an injury. Small was also a threat on the offensive side of the ball, rushing for over 1300 yards in his career as a Senator.
MacArthur –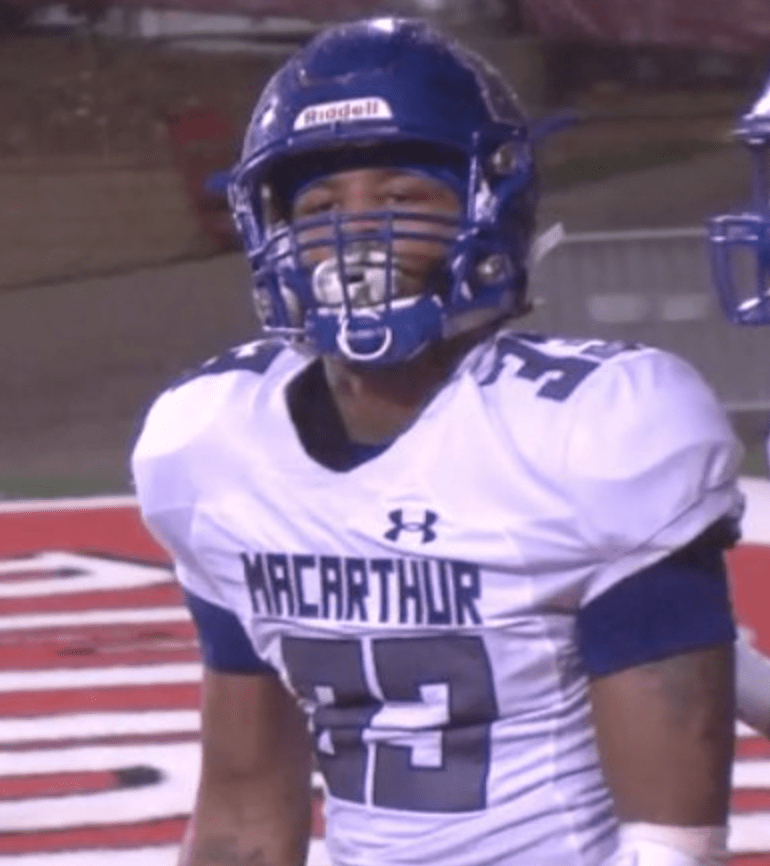 MVP – Derrick Taylor – 
A serious threat to leave you with a bruise on both sides of the ball. Taylor was featured in just about every Big Nasty this season and that shows how much of an impact he had in every game. He became the Generals feature tailback, scoring plenty of touchdowns and was also a major factor on defense for MacArthur who made you earn every point you got against them. One CS8 coach said – "He was a sideline to sideline player on defense who would bring the pain when he got to you and he was a great RB as well for the Generals."
Honorable mention – Jeffrey Wells – You cannot be an all state selection as a junior and not get a shoutout. Wells was as strong of a safety for Derek Spates as we saw in the league this year, and was a threat to break off a huge run every time he touched the ball on offense.
Southeast –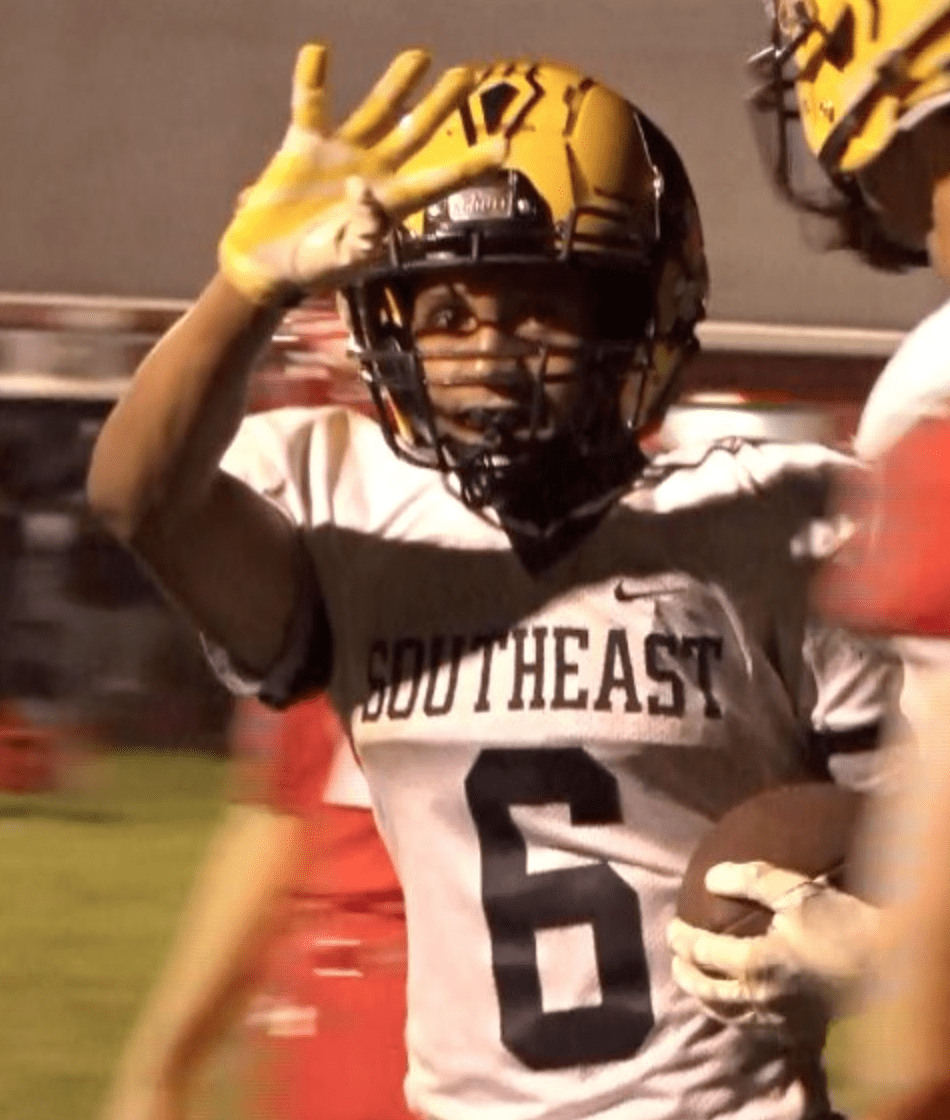 MVP – Deon Fairlee – 
Nobody caught more passes in the conference this season and Fairlee found his way into the record books at Southeast High School because of it. Fairlee was the go-t0 target for Stuart Ross and that combo was electric on the East Side this season. Matt Lauber said "Deon was an explosive athlete who had many big time plays for us. He is in the top 10 all time for single season receptions after having 111 this season.  When we needed a big time play, Deon was usually the player to make it and on top of being a big time player he is a great kid off the field as well."
Honorable mention – Stuart Ross – After getting time at quarterback as a sophomore, we noticed a huge leap in confidence, talent and production from Ross this season for the Spartans. Ross was able to manage the Southeast offense well and find all the weapons they had to make the East Side competitive week in and week out. With 2,686 yards passing, Ross led the CS8 in passing this season, and we can only expect bigger things from him in his senior season.
Jacksonville –
MVP – Chris Pulley – 
The Crimsons running back was a steady option for the Mark Grounds offense this year that kept the chains moving consistently. The sophomore has a real chance to be something special in the coming years for Jacksonville.
U-High-
MVP – Parker Mathieson – 
An all conference selection for the Pioneers, Mathieson showed the CS8 he's not just a baseball player but a pure athlete. Mathieson made an impact for U-High on both sides of the ball, having a strong sense for the ball in the secondary and being able to go up and make a grab in traffic as a wide receiver.
Lanphier –
MVP – Narkel Leflore – 
Capable of breaking off a big run every time he touched the ball, the junior running back was one of the best in the league on the ground. An all conference selection, coaches in the CS8 recognized his talent and ability for the Lions.
Eisenhower –
MVP – Brylan Phillips – 
While there may have been very few bright spots for the Eisenhower football team this season, there was another freshman quarterback besides Springfield High's Rochelle who took the reigns. The Panthers may have a promising future if Phillips can continue to grow at quarterback and get a few guys around him to give Eisenhower options for an offensive threat.