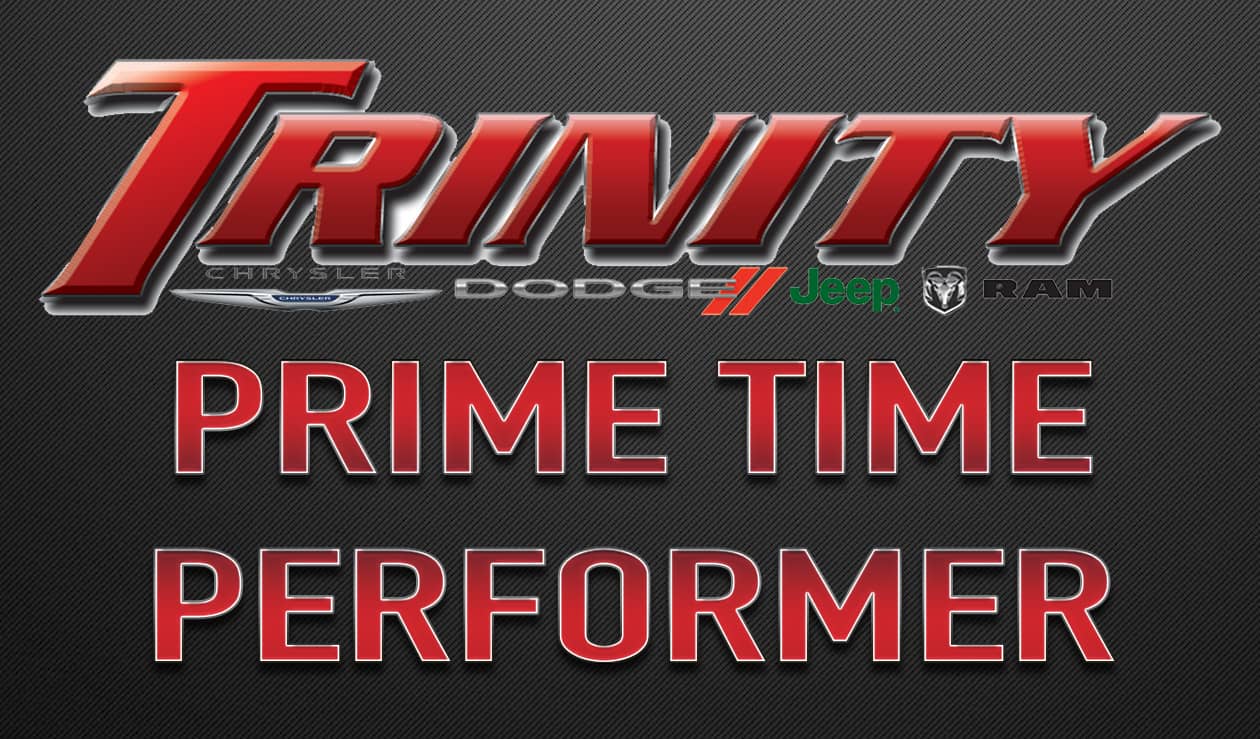 Here are this week's candidates for the Trinity Chrysler Dodge Jeep Ram in Taylorville Prime Time Performer.
You can vote once every 12 hours until the polls close on Friday at 5 p.m.
The winner will receive a $20 gift card to Dublin Pub.
Cameron Appenzeller (Glenwood Boys Golf) The Titans have been on a roll to start the season and that continued at the Mattoon Craig Dixon Invite on Friday and Saturday. Appenzeller shot a 72 on Friday and a 70 on Saturday to help secure third place individually. Glenwood won the meet with a team score of 605 over the two day tournament.
Josh Cates (Williamsville Football) Williamsville was back at Paul Jenkins Field against Pittsfield on Friday night. Cates threw for 237 yards and three touchdowns while rushing for an other 94 yards and two TDs. Check out the first quarter highlights of the Bullets 49-13 victory HERE.
Cory Craig Jr (Athens Football) The Warriors traveled to Stanford to take on the Olympia Spartans Friday night. Athens came away with the 14-6 win with the go ahead touchdown coming from Craig in the third quarter. Along with the TD, he rushed for 114 yards in the game. Highlights of the Sangamo showdown HERE.
Becca Heitzig (Lincoln Girls Cross Country) Heitzig picked up a big win over the weekend taking first at the First to the Finish Invite at Detweiller Park in Peoria on Saturday. She took the girls 2A win with a time of 17:01.2.
Ava Hillyer (Sacred Heart Griffin Volleyball) A big career milestone last week for Hillyer in a conference game against Glenwood. The Cyclones would fall 2-1 but Hillyer helped extend play to a third set with seven aces and four kills while also picking up her 1,000th assist. Highlights of the three set battle between the Cyclones and Titans HERE.
Ali Londrigan (Glenwood Girls Cross Country) Glenwood girls got a big win on Saturday at the First to the Finish Invite at Detweiller Park in Peoria. They took first place, with a score of 117, in the 2A girls race that included 53 teams from around the state. Londrigan was the top finisher for the Titans with a time of 18:04.5 for ninth place individually.
Claire Long (Pleasant Plains Volleyball) The Cardinals continue to pick up wins this season included a two set victory over Sacred Heart Griffin last week. In the victory Long led the team with 10 assists and added six dig. You can see the highlights of that game HERE.
Brenden McArdle (Rochester Boys Soccer) Rochester had a busy week with three wins; a 3-2 victory over U-High, a 2-0 victory over Williamsville and a 4-0 victory over Lincoln. McArdle scored a goal in every one of those wins. Highlights vs U-High HERE, Williamsville HERE and Lincoln HERE.
Christian Pollard (Sacred Heart Griffin Football) The Cyclones got a big win over Jacksonville on Friday night with a 51-10 victory. Pollard had five touchdowns in the win with 14 carries for 85 yards. Check out those touchdowns HERE.
Peyton Sasse (Lincoln Volleyball) The Lincoln volleyball team got a big two set victory over Rochester on Tuesday then picked up a third place finish in the Lincoln Hampton Inn Tournament over the weekend. In the win over Rochester, Sasse had nine kills for the Railers. At the tournament over the weekend, she finished with 58 kills and 19 digs while making all tourney team. Check out the highlights of the Rochester game HERE.
Alek Weiland (Normal U-High Football) The Pioneers played their first game at home in week three and picked up a 42-26 victory over Southeast. Weiland continues with his good performances throwing for 238 yards and three touchdowns while rushing for 46 yards and another 2 TDs.
Mo Wiezorek (Glenwood Volleyball) The Titans got two three set victories last week. The first came against SHG where Wiezorek totaled 26 assists along with three aces and nine digs. She also had 28 assists , three blocks and four digs in a win over Williamsville. Highlights of the 2-1 victory against SHG HERE and Williamsville HERE.
Bryan Zulauf (Rochester Football) Rochester travled to Decatur on Friday night to take on the MacArthur Generals and brought home a 49-21 win. Zulauf went 16 for 23 in the win throwing for 240 yards and four touchdowns. Highlights of the Rockets win HERE.