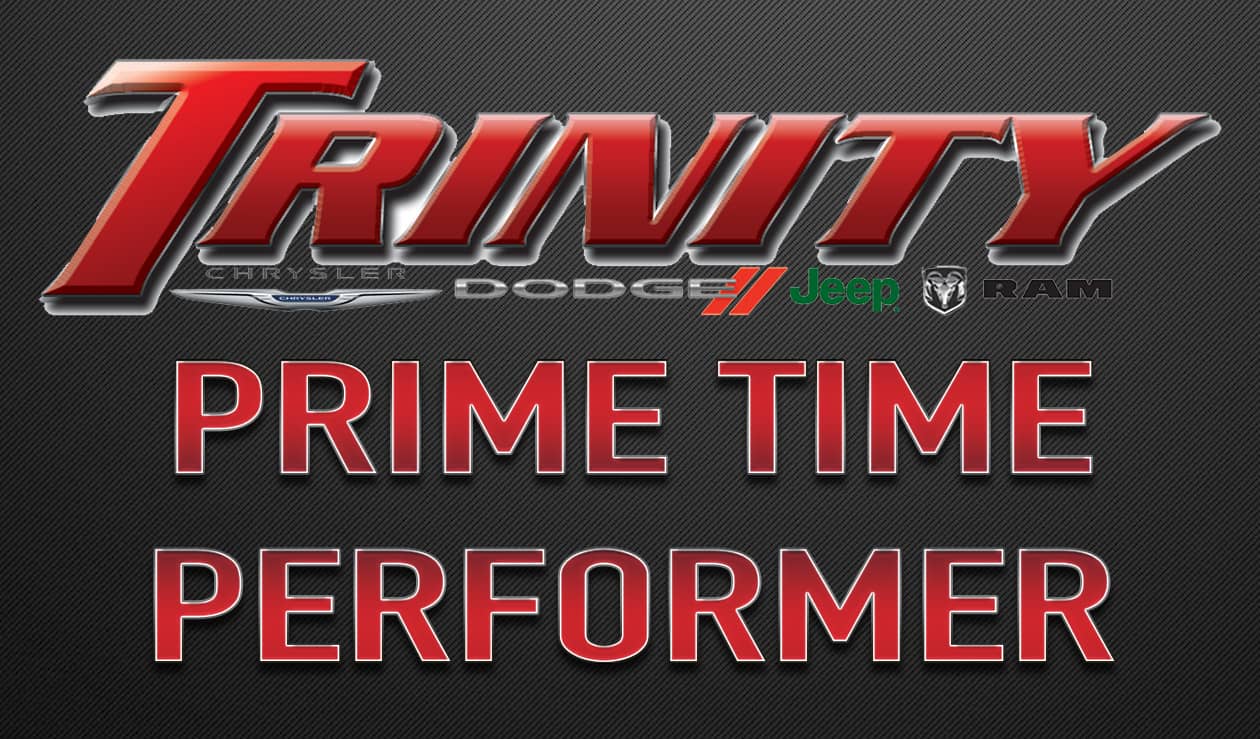 Here are this week's candidates for the Trinity Chrysler Dodge Jeep Ram in Taylorville Prime Time Performer.
You can vote once every 12 hours until the polls close on Friday at 5 p.m.
The winner will receive a $20 gift card to Dublin Pub
Cam'Ron Mitchell (Jacksonville Football) The Crismsons picked up their first win in Normal against U-High on Friday. The sophomore running back rushed for 148 yards with two touchdowns while also picking up 44 receiving yards with one touchdown.
Cameron Frye (Williamsville Soccer) Frye not only had a hat trick in the opening game of the Four Corners he nearly completed the hat trick with all headers. Two of his three goals were headers and the Bullets picked up the 6-0 win over Pleasant Plains.
Weston McAllister (Pittsfield Football) Pittsfield traveled to Riverton on Friday and picked up a 31-21 victory over the Hawks. Quarterback McAllister had 206 passing yards with one touchdown and a handful of rushing yards in the game.
Tori Taylor (Rochester Volleyball) The Rockets are off to a hot start this season and won their first tournament finishing 5-0 on the day at Champaign Centennial. In the championship they defeated Morton 28-26, 25-22 with Taylor contributing 10 kills and 2 solo blocks in the game.
Antwione Alwerdt (Springfield High Football) The Senators picked up their second win last week and Alwerdt had a a breakout game. He had 90 rushing yards and two rushing touchdowns plus 41 receiving yards and one receiving touchdown.
Brenden Heitzig (Lincoln Cross Country) Some of the best cross country programs were a part of the Rocket Invite in Rochester on Saturday and the Railsplitters took individual first in both races. The junior won the boys race with a time of 15:34.1, nearly 45 before the second place finisher.
Jackson Kern (Auburn Football) Ryan Gardner got his first win as head coach of the Trojans in week two with a 21-0 victory over New Berlin. Kern was a big part of that game with a 100 yard interception return to put points on the board going into halftime and again later in the game he picked up a rushing touchdown.
Hannah Smith (Pleasant Plains Volleyball) The Cardinals picked up two conference wins this week, one over Auburn and another over Williamsville. Smith picked up four kills and 10 assists against Dee Mack on Monday, five kills, 11 assists, and two aces against Auburn on Tuesday. In the 2-1 victory over Williamsville she racked up four kills, four digs, and 20 assists.
Colin Ripperda (Williamsville Football) The Bullets escaped a close one against Athens in a 28-21 victory. Ripperda was an essential of their defense with five solo tackles, 12 assisted tackles, one tackle for loss plus one sac, one fumble recovery and one interception.
Becca Heitzig (Lincoln Cross Country) Lincoln had not one but two individuals win races at the Rocket Invite on Saturday. The sophomore picked up the victory in the girls race with a time of 17:49.7, about 15 seconds ahead of second.
Parker Boatman (SHG Soccer) The Cyclones won the Four Corners Tournament last week with a 3-1 victory over Williamsville in the championship. Boatman had five goals and two assists in the four games of the tournament. Catch more of the Cyclones this week as they take on Rochester and Glenwood.