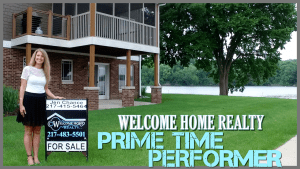 Here are this week's candidates for the Welcome Home Realty Prime Time Performer.
You can vote once every 12 hours until the polls close on Friday at 5 p.m.
The winner will receive a $20 gift card to Mariah's.
Terrion Murdix (Southeast Guard) Back to back City titles deserves back to back #PTP nominations. Just a simple look at the City MVP's numbers over the course of three days at City will tell you everything you need to know. Night one vs. Lanphier: 19 points, 13 rebounds, 6 steals, 3 assists, 0 turnovers. Night two vs. Springfield High: 30 points, 4 rebounds, 3 assists, 2 steals, 2 turnovers. Night three vs. SHG: 19 points, 11 rebounds, 5 steals, 4 assists, 1 turnover. He averaged one turnover per game with the ball in his hands for basically the entire City Tournament, while putting up those stats, and winning every game by at least 15 points.
Skylar Hayes (Mt. Pulaski Guard) Already a 2,000 point scorer, the senior keeps piling on her all-time scoring number with the Hilltoppers. Hayes had 40 points in a 69-68 overtime loss to Central A&M, scoring 15 points in the fourth to force overtime, while going 16-16 from the line.
Jack Livingston (Taylorville Guard) The Tornado filled it up all weekend at the Rick McGraw Memorial Invitational for Taylorville. Livingston hit six 3-pointers in the semifinals against Greenville, tallying 31 points. He then added another six from beyond the arc in the championship round, dropping another 20 points as Taylorville cruised past Nokomis 71-45 on Saturday night.
Marley Smith (Auburn Forward) The freshman showed out all week long at the girls Sangamon County tournament, scoring in double figures each game while earning MVP honors as Auburn made it all the way to the championship game before falling to Pleasant Plains Thursday night. Smith tallied 23 points in a semifinal win over Williamsville before scoring 14 in the loss to the Cardinals.
Andrew Schluter (SHG Guard) Our breakout performer of the City Tournament was the biggest reason the Cyclones came away with a win at the BOS Center this past week. The sophomore came off the bench and sparked SHG against Lanphier, scoring a game-high 18 points while going 7-10 from the field, including 2-3 from beyond the arc. We talk a lot about SHG's top-level starting unit, but if they can get contributions from the bench like they did from Schluter this past week, the Cyclones could really become dangerous.
Ashlyn Sturdy (Tri-City Guard) Sturdy continues to pour in gaudy scoring totals. In the girls Sangamon County consolation championship on Thursday, Sturdy dropped 27 points, moving her into the top spot on the TCSV girls career scoring list with 1,349. She broke Aubrey Hunt's previous record of 1,324, and the prolific scorer is only a junior. That number can easily flirt with 2,000 before her career is over with the Tornadoes. Sturdy was also named to the county all-tourney team on Thursday.
Sam Mount (North Mac Guard) As he tends to do, Mount set the tone for North Mac offensively all week for the Panthers, leading them to a Macoupin County championship on Friday night. Mount had 14 in the 43-32 championship win before being named to the all-tournament team. Mount also added 24 points in a semifinal win against Carlinville.
Michael Tyler (Southeast Forward) His presence wasn't clearly shown on the box score, but Tyler's return to the lineup for Southeast was a huge boost for the Spartans during City this week. Working his way back into the rotation, Tyler's defensive prowess was on display all week, as the senior tallied 9 blocks over the three games while affecting numerous shots in the lane with his length. Especially with the injuries to Anthony Fairlee and now Herb McMath, Tyler's presence and defensive abilities will be crucial for the Spartans if they hope to make a deep postseason run.