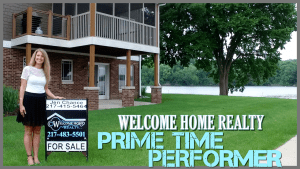 Here are this week's candidates for the Welcome Home Realty Prime Time Performer.
You can vote once every 12 hours until the polls close on Friday at 5 p.m.
The winner will receive a $20 gift card to Mariah's.
Luke Lehnen (Glenwood Guard) A football season regular, the junior makes his basketball season debut on #PTP after a great shooting performance in a big win over Lanphier. The Titan hit four three's, dropping a game-high 22 points in a 52-32 win over the Lions on Friday night. It's a smart bet guessing that this won't be the last time we see the three sport star from Glenwood on the #PTP list this hoops season.
Peyton Boudouris (Rochester Guard) Despite coming off the bench Thursday against Glenwood, the senior wasted no time finding her groove. Bourdouris immediately hit a three in the opening quarter to help extend the Rocket lead over the Titans, then hit another two before the first was over, going 3-3 from beyond and 8-8 from the free throw line. Boudouris' fantastic shooting night that notched her a game-high 17 points was good enough to help guide Rochester over Glenwood 51-41.
Zaire Harris (Springfield Guard) The Solons are hot! Springfield High has now won four in a row, and their composure in close games has been the difference. Senior guard Zaire Harris has been the driving force behind it all, dropping 34 points and grabbing 10 rebounds in an overtime win over Eisenhower Friday, then guiding the Senators to another close win over Quincy 42-40 with a game-high 13 points. The Senators are one of the hottest teams in the CS8 right now.
Payton Vorreyer (SHG Guard) The Cyclones looked very impressive at home on Thursday, getting revenge on the team that knocked them out of the playoffs last year in a regional final. Senior guard Payton Vorreyer was the catalyst in SHG's 66-43 win over Lanphier as she tallied a game-high 23 points, 13 of which came in the first half.
Russell Crifasi (Lutheran Guard) The Crusader's efforts Wednesday night against PORTA weren't quite enough for a win as Crifasi dropped a team-high 17 points, but his efforts Friday night against Tri-City were more than enough. The guard had 24 points to lead all scorers in a 56-42 win as Lutheran gets ready for their Sangamon County Tournament debut.
Sarah Byrd (Springfield Forward) It can be a different Senator on any given night for Springfield High, that's how balanced this team is. On Thursday, it was Sarah Byrd leading the way against Southeast with a game-high 20 points, as the Senators routed the Spartans at Southeast 70-33. This team is a tough one to gameplan for, so don't be surprised if we see a new Senator on this list next week.
Vaughn Toyne (PORTA Guard) What a week from beyond the arc for the senior guard. The Bluejay started hot at Lutheran in a non-conference 60-36 win over the Crusaders that saw Toyne lead the way with 25 points. He kept it rolling from there, scoring another 14 in Friday's win over Manito Midwest Central, then 15 points in a win at the Winchester Tournament over Greenfield while hitting three 3-pointers in the first half.
Brylan Phillips (Eisenhower Guard) We saw flashes from the freshman when he slid into Eisenhower's starting quarterback role this past football season, but we're seeing just how good the young Panther is on the hardwood very early on. Phillips had a team-high 25 points in an overtime loss to Springfield High Friday, but with the progression the young bucks on Eisenhower have been making so far this basketball season, it won't be long before Phillips and company will be on the other side of the win-loss column.