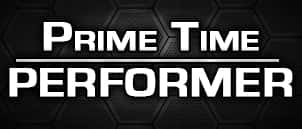 Here are this week's candidates for Prime Time Performer.
You can vote once every 12 hours until the polls close on Friday at 5 p.m.
The winner will receive a $20 gift card to Mariah's.
Derrick Roberts (Calvary G) We've seen flashes from the Saints guard before, but it really looks like Roberts is putting it all together in his junior year. In the opening game of the Capital City Showcase on Saturday Roberts poured in an efficient performance of 25 points on 11-13 shooting while ripping down 13 boards in a 60-50 win over Gateway Legacy Christian. Roberts will be one of the more exciting players in the area to check out this year.
Victoria Zeigler (SHG C) The senior center came off the bench for the Cyclones on Thursday, but it didn't look like she needed any time at all to get into the flow of the game. Zeigler immediately made her presence known with a block at one end as she ran the floor and finished an and one at the other. Zeigler continued that dominance on both ends of the floor, adding a few more blocks as she poured in a game-high 15 points in a 70-42 win over Glenwood Thursday, as 11 of those came in first half.
Bennie Slater (Springfield F) Bennie has been on our radar as a guy who's ready to make a big time impact for the Senators, and Saturday at the BOS Center felt like it just might have been his coming out party. Slater dropped 30 points, including the game-sealing steal and breakaway dunk as time expired to end Eisenhower's final possession in a 55-51 win. Oh, and he added five blocks. Yeah, Bennie is going to be a problem this year.
Ashlyn Sturdy (Tri-City G) We've already seen some impressive things from Sturdy early on, but we didn't expect to be putting her on triple-double watch before December. Sturdy poured in 25 points, seven rebounds, and seven assists in a 51-25 win over North Mac on Thursday, and we have a feeling she'll be putting up stat lines like that more often than not. She also passed the 1,000 career point mark on Saturday, showing she can fill up the box score regularly. Sturdy is one of the most exciting girls hoops players in the area.
Charlie Hamilton (SHG G) You wonder what Hamilton could've done in a full game after what he turned in from just 22 minutes against U-High on Saturday. The senior guard was bogged down by foul trouble early, but still managed a game-high 27 points as he went 4-7 from three in the Cyclones 70-67 loss to the Pioneers. The 6'4" senior guard will put up gigantic numbers if he can keep shooting like that this season.
Martrice Brooks (Lanphier G) The regional championship-winning Lions are returning a number of notables to the North Side, and they're led by guard Martrice Brooks. The Lion tallied a game-high 21 points in a 99-24 win over Jacksonville Thursday, showing that last year's sectional appearance was no fluke. The Lions are here to stay.
Nate Torres (U-High F) SHG was all over the Pioneers in the beginning of Saturday's game, and you wondering who would spark U-High's comeback with guard Alex Wood unable to go. The answer came in the form of Nate Torres. The forward took home player of the game honors thanks to a team-high 24 points, and once the Pioneers have their star guard back, these two could make for a lethal inside-outside punch.
Kaleah Toran (Springfield G) We thought we saw some flashes from this freshman guard when she added 10 points off the bench in the Senators 68-51 win over SHG on Tuesday, but Toran's work on Thursday affirmed she's ready to step up and be a real player for Springfield High this year. Toran had a game-high 18 points in the Senators' 65-44 win over MacArthur Thursday. The Solons look like they're the CS8 team to beat once again on the girls side, and Toran only makes them even more versatile.
Jaden Snodgrass (Lanphier G) The SHG transfer took a little to get his feet wet in his first CS8 action as a Lion, but you could say he settled in quite nicely as Lanphier squeaked out a 60-58 win. Snodgrass was vital in the win, racking up a team-high 18 points, including big bucket after big bucket with Karl Wright and KJ Debrick in foul trouble, but it was his defense down the stretch that sealed it. With five second remaining and Lanphier leading by one, MacArthur inbounded it to big man Kaeden Lawary, but Snodgrass had position in the lane and drew the charge call to seal it for the Lions.
Emily Long (Pleasant Plains G) The Cardinals have come out looking as sharp as ever, and the junior Long has been a big contributor to that. She dropped a game-high 16 points in 39-25 win over Auburn on Thursday, while snagging our Lite of the Nite by racking up eight points in under a minute. These Cardinals have a lot of weapons that can score in bunches. Look out.
Max May (Illini Central F) The Cougars turned in some impressive performances when we got a chance to see them last year in Sangamo action, and they could make even more noise with a senior-laden roster this season. Senior wing Max May leads the way, and on Tuesday the senior passed 1,000 career points with a 21-point effort in a 54-44 win over North Mac.