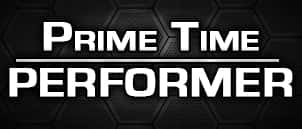 Here are this week's candidates for Prime Time Performer.
You can vote once every 12 hours until the polls close on Friday at 5 p.m.
The winner will receive a $20 gift card to Mariah's.
Alex Sweetland (SHG Running Back) It's tough to find a harder way to lose than what SHG endured on Saturday against Washington, but what the Cyclones can hang their hat on is the future. Sophomore back Alex Sweetland ran wild against Washington, racking up 125 yards on the ground and two touchdowns to go along with three catches for 76 yards. The offense went through Sweetland on Saturday, and there's a very good chance we'll be saying that quite often for the next two years.
Adam Holm (Glenwood Wide Receiver) We said it was tough to find a harder way to lose than how SHG did on Saturday, but Glenwood could make a case. With three go ahead scores exchanged in the final 90 seconds of the game, the Titans lost an utter heartbreaker on Saturday. Holm's 28 yard TD catch with 22 seconds remaining is the game winner almost any other time, but Crete-Monee's final answer with 12 seconds left sealed the win and ended Glenwood's season. The senior finished with four catches for 92 yards and the go-ahead score in the final moments.
Dathan Maton (Glenwood Cross Country) The Titans delivered! The expectations heading into the season were lofty, as they should have been with a preseason number one ranking in the state, but Glenwood came through and more on those expectations at Detweiler Park on Saturday. The Glenwood Titans are the 2A Cross Country Boys State Champions, and senior Dathan Maton led the way for the Titans with a 7th place finish with a time of 15:03.28.
Brandon Odam (Taylorville Quarterback) It's become a game of musical chairs on PTP between Taylorville's Brandon Odam, Justin Wright, and Yemi Odugbesan, but how can a member of this dangerous trio not be on here every week?! We'll go with Brandon this time, since his numbers in the Tornadoes round two win over Columbia were a different level of absurd. Odam finished with 345 yards passing and five touchdowns, adding 87 yards and two scores on the ground in a 45-23 win. And yes, we're all looking forward to the fireworks display when Rochester comes to the turf this weekend for the quarterfinals.
Scott O'Conner & Bryce Newton (Williamsville Wide Receivers) There were big shoes to fill when senior wideouts Joseph Mitchell and Hunter Thompson graduated. We've talked at length about the Williamsville running game, but we have to give a shout out to the passing game in the Bullets' round two win over Fairfield. O'Conner and Newton led the way with nearly identical stat lines from the outside. O'Conner racked up 104 yards off four catches and found pay dirt twice, while Newton caught five for 103 yards and two touchdowns himself. This Bullet offense is clicking on all cylinders heading into a gigantic quarterfinal matchup with Carlinville on Saturday.
Kyle Boughter (Springfield Cross Country) It was a big day for the CS8 at Detweiler Park on Saturday. Glenwood took home first in 2A, but did we mention that Springfield High took home second? Complete dominance at state from our area XC teams, and for Springfield High it was led by Boughter. The junior cracked the top 10, finishing with a time of 15:08.18.
Cody Marsh (Maroa Forsyth Defensive Back) The Trojans continue to roll through the 2A playoffs with Saturday's 49-12 win over Chester, and have Tuscola in the quarterfinals up next. While there was plenty of scoring to go around offensively for Maroa, the defense came up huge, continually giving the ball back to that potent offense as they forced six turnovers. Junior Cody Marsh led the way with two picks on the back end.
McKenzie Smith (Pleasant Plains Volleyball) It was a complete team effort from the girls to punch their first-ever trip to state with a three set win over Eureka, but we'll go with the senior captain here. Smith was on a different level on Friday night for the Cardinals, racking up nine kills and seemingly coming up with big play after big play when Plains needed them most. The Cardinals head to ISU this weekend for the state tournament, starting with defending champs St. Thomas More on Friday at noon.
Clay Bruno (Rochester Quarterback) You know your offense is absurd when it was a relatively quiet night for your quarterback and he still gives you five touchdowns. The Rockets pounded the rock on the ground all night to the tune of 305 rushing yards thanks to Jacob DuRocher, David Yoggerst and Zach Gleeson, but Bruno ran the show to perfection. Bruno passed for 197 yards and three touchdowns, adding 37 yards and two touchdowns on the ground, as the junior orchestrated a 47-28 win over Pontiac in round two. You already know who they get this weekend for the quarterfinals.