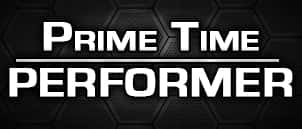 Here are this week's candidates for Prime Time Performer.
You can vote once every 12 hours until the polls close on Friday at 5 p.m.
The winner will receive a $20 gift card to Mariah's.
Logan Peters (Rochester Defensive Back) Aside from being almost literally all over the field tackling everything in sight, Peters might have made the biggest play of the game. With just five minutes remaining in the third quarter and the Glenwood Titans needing a response down 21-14, Rockets defensive back Logan Peters effectively shut the door on a potential Titans' answer. With Luke Lehnen rolling out looking to pass, Peters jumped Lehnen's pass and picked it off, setting up the Rochester offense in Glenwood territory. The Rockets would turn that turnover into seven points with a David Yoggerst touchdown run making it 28-14, as Peters' pick turned into a huge momentum shift for the Rockets.
Reed Rogers (Jacksonville Forward) Rogers has been spectacular all year for the Crimsons, and when they needed him most, he came through for Jacksonville yet again. In the Jacksonville regional title game against Glenwood, Rogers' corner kick just 10 minutes in found its way into the net off his foot from the corner spot, and it proved to be the difference in the game as Jacksonville held on with a 1-0 victory to move to the Maroa Sectional.
Nic Laird (Athens Running Back) Another 7-2 season for the Warriors powered by their terrific ground game. Last week we highlighted the big boys up front, this time we're shouting one of the guys toting the rock. Laird had 157 yards and three touchdowns in a blowout win over New Berlin to finish the season, as Athens looks ready to roll heading into the 2A playoffs.
Justin Bivins II (Springfield High Running Back) It's tough to find a week where we aren't praising a Springfield Senator, but when the offense is this explosive, it's hard not to show them some love. Bivins was his usual game-breaking self on Friday against Jacksonville, tallying 142 yards and three touchdowns in a 41-10 win. The Senators finished 6-3, one mark better than last season, as they head into the 6A playoffs to face Shepard.
Cami Blair (SHG Swimmer) After knocking Springfield High off in City Swim for the first time in six years, the Cyclones were looking to make that the standard again in 2018. With Abby Fierstos gone, a young SHG team would need a new leader, and the senior stepped in flawlessly. Blair won the 200 Freestyle and the 100 Backstroke and was a part of the 200 Freestyle Relay and the 400 Freestyle Relay that helped SHG cruise to a gigantic city win with 156 points.
Brenden Flanigan (Pleasant Plains Quarterback) You can't ask for a much better way to head into the playoffs than having your quarterback just throw for 278 yards and four touchdowns. It might have been against one of the easier opponents in the Sangamo, but add that stat line to Plains' rout over New Berlin and the last second win over North Mac, and you've got a QB in his first season starting with three straight wins and a couple of big-time performances heading into the 3A playoffs. The confidence level for the Cardinals signal caller is high right now.
Gavin Clifton (Maroa Forsyth Running Back) It wasn't his most dominant stat line of the season (Gavin Clifton's touchdown numbers have been absurd), but it was the importance of this performance that gets him on the list. With a chance to give Maroa an outright Sangamo title, Clifton rushed for 77 yards and three touchdowns, effectively putting the game away in the second half when Maroa led by only two scores heading into halftime.
Nia Gibson (Glenwood Cross Country) We saw Gibson finish third at the CS8 Conference Meet last week and knew she was a force for the Titans, even as just a freshman, but her display at the 2A Taylorville Regional cemented that notion. The freshman runner finished with a 18:52, beating second by 15 seconds, as seven Glenwood runners finished in the top 12. That led to an extremely impressive team win with just 23 points as Glenwood won the girls 2A Taylorville Regional while Gibson took home first.
Deon Fairlee (Southeast Wide Receiver) Fairlee has been putting up gaudy receiving numbers all year, so this comes as no surprise that he's back on the list to end the regular season. This time, however, we want to point out not only what he did this week, but what that put him at for the season. Fairlee caught 10 passes for 178 yards and two touchdowns, adding a punt return touchdown, which is pretty much a regular day at the office for the senior. Those numbers put him at 109 catches for the year, which is good for 6th all time in Illinois history, to go along with 1,252 yards and 13 touchdowns. The Spartans won't be playing this weekend with just a 4-5 record as they missed the playoffs, but the outstanding career of Deon Fairlee as a Spartan is certainly something worth hanging your hat on as Southeast fan.