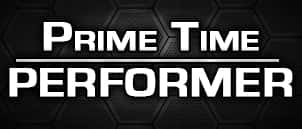 Here are this week's candidates for Prime Time Performer.
You can vote once every 12 hours until the polls close on Friday at 5 p.m.
The winner will receive a $20 gift card to Mariah's.
Clay Bruno (Rochester Quarterback) – You could say the Rochester offense looked like its usual self on Saturday. Against a Springfield High team that had beaten SHG the week before the Rockets went off, and Bruno was the main reason why. He completed 15 of 20 passes for 335 yards and four touchdowns, adding 55 yards and a score on the ground as well as Rochester routed Springfield High 61-24.
Chelky Blaise (Glenwood Running Back) – Already sporting one of the best football names in the area, Blaise was on fire Friday night in his breakout game against U-High. The junior ran for 180 yards and two touchdowns, including a 98 yard scamper to shut the door on the Pioneers in a 49-21 win.
Yemi Odugbesen (Taylorville Wide Receiver) – It's become a matter of who, not if, a Tornado will make PTP on a weekly basis, and this week was Yemi's turn. The Bolingbrook transfer has made Taylorville that much more deadly this season, and Friday he showed us a little bit of everything. Odugbesen's only two catches went for 104 yards and two touchdowns as he added a 13 yard touchdown run and a 95 yard kick return touchdown to boot. Odugbesen did it all for the Tornadoes in a 54-17 drubbing of Mattoon.
Abigail Fitzpatrick (Mt. Pulaski Volleyball) – Fitzpatrick did a little bit of everything for this impressive Mt. Pulaski squad this week. The Hilltoppers secured a two set win over Springfield High on Monday, but Fitzpatrick's work against Midwest Central Thursday was particularly impressive. She tallied 16 kills, six aces and five digs in the sweep.
Deon Fairlee (Southeast Wide Receiver) – Deon's a PTP staple at this point with the eye-popping numbers he's put up this year, but this week was just a whole new level of bonkers. Fairlee totaled SIX touchdowns, five receiving and one rushing, as he caught 14 balls for 247 yards to lead Southeast past Jacksonville 44-14 and kept the Spartans' playoff hopes alive.
Keigan Halford (Pleasant Plains Wide Receiver) – The loss of Sam McAfee was a crushing one for Pleasant Plains, and it required someone to step up for the Cardinals on the outside. Senior wideout Keigan Halford answered the bell and then some in a comeback win over North Mac. Trailing 14-0 at the half, Plains stormed back for a 21-14 win that included a game-tying 34 yard touchdown from Brenden Flanigan to Halford, and then a 54 yarder from Flanigan to Halford with just seven seconds left in the game to steal the win. Tough to get more clutch than that this week.
Katie Tanner (Auburn Golf) – The senior led the way for the Trojans in the Class A Lincoln Regional on Wednesday. Tanner shot an 81 to become the tournament medalist as the rest of her team qualified with a regional-winning 366. They are now into the Auburn Sectional with a trip to state on the line.
Derrick Taylor (MacArthur Running Back) – The argument for the best running back in the CS8 is quickly turning in Derrick Taylor's favor. The senior led the way for the Generals in another huge win over Lanphier, scoring three times on the ground and adding another through the air despite touching the ball only seven times in a 48-15 win.
Reid Taylor (SHG Golf) – Taylor has excelled on both the course and the pitch this year, and on Tuesday he managed to do both in the same day. Taylor medaled at the Rochester Regional with a 71, helping SHG to a team win with 311, before heading to his soccer game against Eisenhower where the Cyclones won 8-0.
Kadinn Morris (Maroa Forsyth Linebacker) – Leading by one with 1:30 to play in the game, Maroa Forsyth's chance at an outright Sangamo title was in jeopardy with Athens driving looking to retake the lead. On third down from Maroa's 30 yard line, Athens dropped back to pass and sophomore linebacker Kadinn Morris read the play and intercepted the pass, effectively ending any hope for an Athens game-winning drive and keeping Maroa's perfect record intact.