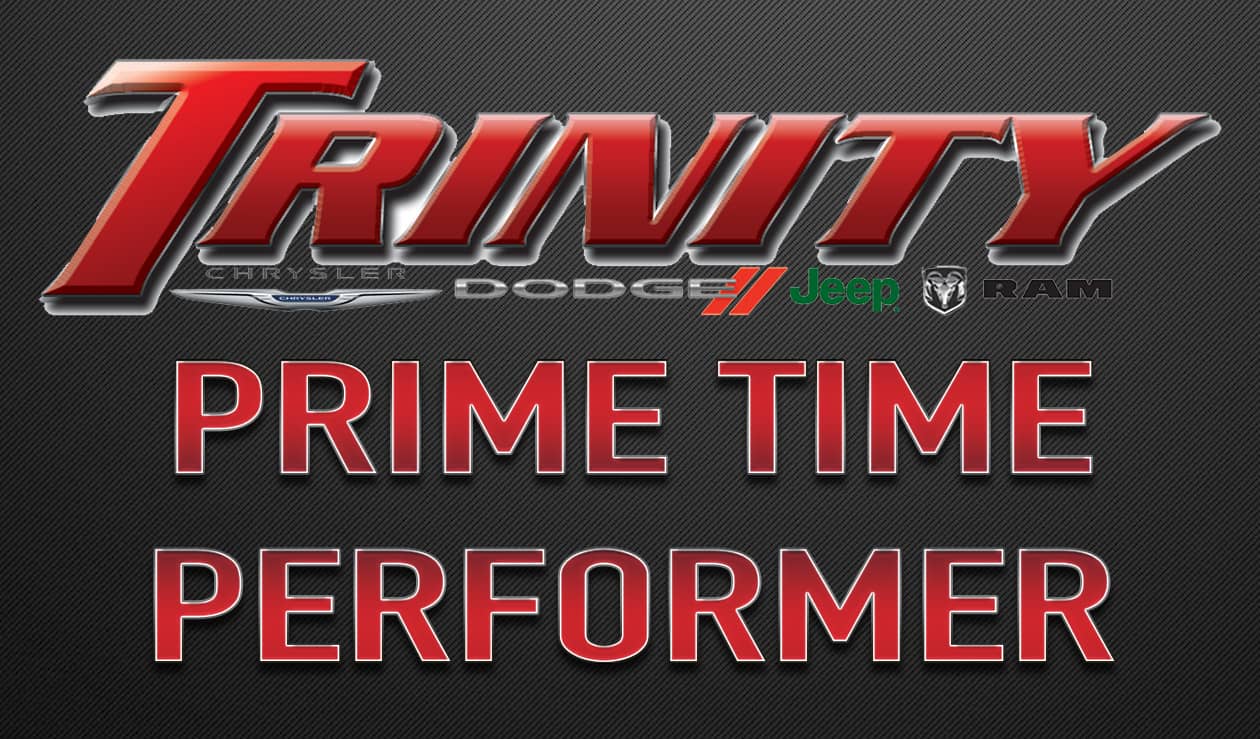 Here are this week's candidates for the Trinity Chrysler Dodge Jeep Ram in Taylorville Prime Time Performer.
You can vote once every 12 hours until the polls close on Friday at 5 p.m.
The winner will receive a $20 gift card to Dublin Pub.
Grayson Mirabile (Williamsville Girls Soccer) Big week for Mirabile as she helped lead the Bullets to a 1A regional championship on their home field and set a new school record. In the regional semifinal she scored seven goals which propelled her to the new school record for career goals. On Saturday in the regional championship, she scored all four goals in the 4-0 victory. Check out the highlights of that game HERE.
Qwinsuan Anderson (Glenwood Boys Track and Field) The Titans traveled to Eisenhower on Thursday and brought home the Central State Eight title. Anderson picked up two individual wins at the conference meet. One was a personal record in the 100 (11.05 seconds) and the other was a win in the 200 (22.72 seconds). He was also a part of the winning 4×100 team that finished with a time of 43.32 seconds. Check out the highlights of the CS8 meet HERE.
Grant Reid (Maroa Forsyth Baseball) Maroa finished their Sangamo schedule undefeated on Wednesday with a win over Riverton. In the victory Reid led the team in RBIs with five while picking up two hits. Maroa looks to pick up a regional title this week as they host their regional.
Hannah Lambert (Sacred Heart Griffin Girls Soccer) The Cyclones are regional champs after beating Pleasant Plains 4-0 at North Mac on Friday night. In the championship game Lambert led SHG in the victory with three goals while she also picked up a goal in the semifinal games on Wednesday. See the semifinal highlights HERE and the regional championship highlights HERE.
Megan Derrick (Pleasant Plains Girls Track and Field) Pleasant Plains girls are one of two Sangamo teams to pick up a sectional title last week. Derrick was a part of two relay first place finishes for the Cardinals. One of those races was the 4×400 (4:18.12) and the other was 4×800 (10:31.37). She also finished third in the 400 with a new personal record at a time of 1:02.74.
Eli Kieser (U-High Baseball) The Pioneers claimed the CS8 crown this week with a wins over Lanphier, Springfield and two against Jacksonville. Kieser had three hits against Lanphier and went 2 for 4 with three RBIs and a walk in the victory over Springfield on Monday. He also pitched seven innings with seven strikeouts in a 6-3 win over Jacksonville on Tuesday. Highlights against Springfield can be seen HERE with highlights of the win over Jacksonville HERE.
Ella Gorrie (Glenwood Girls Soccer) The Titans are CS8 champs after wrapping up an undefeated conference schedule on Tuesday against Rochester. In that game Gorrie scored two goals while she also picked up a goal in a victory over Granite City on Thursday. Check out the highlight from the win over Rochester HERE and the win over Granite City HERE.
Krish Khurana (Springfield High Boys Tennis) The Senators won the CS8 tennis tournament this weekend with Khurana finishing second in the individual bracket. He won his quarterfinal match 6-2, 6-0 and the semifinal 6-4, 6-3.
Reece Butcher (New Berlin Track and Field) Butcher is now a school record holder at New Berlin. On Wednesday at Pleasant Plains he set the new 800 meter record with a first place finish and a time of 2:00.95.
Claire Black (Glenwood Softball) Glenwood is looking to finish their CS8 schedule unbeaten this week as they take on Rochester on Tuesday and Wednesday. Last week the Titans picked up a win over Pleasant Plains and two over MacArthur. In the victory over Plains, Black threw five no-hit innings while striking out ten. At the plate she went 2-3 with five RBIs including a three run home run in the first inning. Check out that home run HERE.
Livia Binder (Maroa Forsyth Girls Track and Field) The Trojans took home a sectional championship last week. She won pole vault at 3.05 meters and finished 3rd in the 100 meter with a PR of 12.75. She was also a part of two first place relays including the 4×100 (50.22) and the 4×200 (1:48.46).
Isaac Long (New Berlin Baseball) The Pretzels picked up their 20th win of the season on Saturday with a 1-0 victory over Mt Pulaski. In the bottom of the sixth with one on Long came up with a RBI single for the lone run of the game. See the highlights HERE.