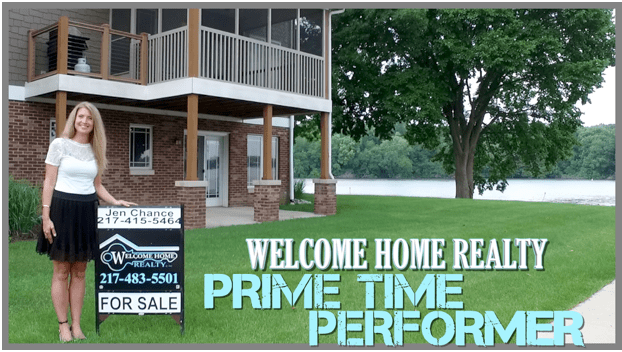 Here are this week's candidates for the Welcome Home Realty Prime Time Performer.
You can vote once every 12 hours until the polls close on Friday at 5 p.m.
The winner will receive a $20 gift card to Mariah's.
Taylor Page (Tri-City softball) The Sangamon Valley senior is a staple at third base for Brad Sturdy and the Tri-City Tornadoes and a solid hitter in the middle of that dangerous lineup. On Saturday, Page got the offense going against a division one pitcher from Hillsboro with a two run double and then added some insurance with another RBI in the fifth.
Greg Downs (Auburn track) Not one, not two but three first place finishes for future Eastern Illinois track star Greg Downs at the Rocket Invite on Saturday. Downs won the 100 (11.43), the 200 (22.8) and the 400 (51.41) to show off what the Trojan track star is capable of this spring. 
Jake Jurgens (Glenwood baseball) One of the most exciting baseball games we'll get all season took place out at the Plains Classic on Friday evening. Jake Jurgens blasted a game winning grand slam in the seventh inning to power the Titans to a come from behind win after Routt scored ten unanswered runs.
Nolan Decker (Jacksonville baseball) Regardless of the opponent, it's really hard to throw a no-hitter. Crimsons pitcher Nolan Decker picked up a no-no last week against Eisenhower in a CS8 contest, walking just one in a Jacksonville 18-0 win. He also had five RBI's in the victory.
Maddie Wichmann (Glenwood softball) The scenario every baseball and softball player dreams about is entering the batters box in the bottom of the final inning with a chance to hit a walk off game winner. Maddie Wichmann made that dream a reality on Wednesday to hand Rochester their first loss of the season. 
Jacks Hyde (Springfield High baseball) Springfield High stayed in the hunt for a City baseball title thanks to senior Jacks Hyde's sac fly in the seventh against Southeast on Tuesday night. The Senators swept the Spartans last week after splitting with the Cyclones…two with Lanphier this week ends the City series. 
Addison Cline (Rochester softball) A pitcher's duel didn't disappoint if you like strikeouts and good defense on Tuesday. Reagan Miles and Terin Teeter shut the bats down through seven innings, but freshman Addison Cline came through for the game's first and only run with a walk off double to beat Glenwood.
Hallie Mitchell (Maroa-Forsyth softball) Not one, but two dingers for Hallie Mitchell came at the perfect time. Maroa-Forsyth got a win over Williamsville in a wild Sangamo contest featuring 17 total runs. Mitchell's homers in the third and fifth innings powered the Trojans to an important conference victory. 
Candon Hatalla (North Mac baseball) North Mac baseball is young, energetic, talented and have adopted a never quite attitude. The Panthers picked up a huge Sangamo win over Auburn last week and Candon Hatalla got the rally started for North Mac in the sixth inning with a three run home run that led to a 10-5 victory over their rivals. 
Cassidy Filipiak (Auburn softball) The Trojans started the week strong on the softball diamond picking up a big non conference win over a CS8 opponent. Cassidy Filipiak pitched a complete game to get the win, giving up just one run and driving in a run to help the offense. Filipiak ended the week with a no hitter in a Sangamo conference game, as the Trojans beat North Mac 10-0.
Lauren Ferguson (Springfield High track) Make plans to get out to the Girls City track meet this Wednesday evening. There's a handful of the best track athletes in the state that will put their talents on display and you don't want to miss it. Springfield High's Lauren Ferguson ran the number one time in the state of Illinois in the 300 hurdles (43.15) at the Glenwood Invite last week for a first place finish. That time is good enough for 25th nationally. Yeah, you read that right.