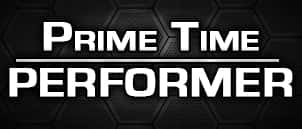 Here are this week's candidates for the Welcome Home Realty Prime Time Performer.
You can vote once every 12 hours until the polls close on Friday at 5 p.m.
The winner will receive a $20 gift card to Mariah's.
Travis Hogan (Riverton Forward) Last week we featured the scoring efforts of fellow Hawk Spencer Yoggerst, but this week it's Hogan getting the shine. The big man scored 39 points in a win over Clinton, sinking four three pointers for the Hawks in a 61-42 win. Between Hogan and Yoggerst, the Hawks have dangerous scoring options.
Justin Tanner (Auburn Forward) The senior forward wasn't playing around when Sangamo opponent Athens came into Auburn on Tuesday night. Tanner went off, dropping 33 points and snagging 10 rebounds, going 13-13 from the field in a 75-59 win over Athens. It looks like the Trojans may have found their next go-to scorer in the wake of Benji Eaker.
Mason Muller (PORTA Forward) Muller kicked the week off with a great 23-point performance in a win over Illini Central, a game in which he dominated the fourth quarter, but it was the junior forward's work in PORTA's win over Pleasant Plains that was even more impressive. He dropped another 22 points, including a buzzer-beating three pointer to close the first half, to help the Bluejays beat Pleasant Plains at home 49-41.
Diavian Mehundrew (Southeast Basketball) Mehundrew absolutely dominated for the Spartans in their win over Eisenhower on Thursday. The Spartan had 40 points, hitting six 3-pointers, three of which came in the first quarter during a 16 point effort in the opening frame as Southeast beat Eisenhower 61-53.
Hank Hayer (Lutheran Forward) The senior Crusader came into LuHi's game against Central A&M needing just three points to hit 1,000 for his career, and A&M made him work for it. Entering the fourth quarter Hayer had just two points on the night, but he scored 13 points in the final frame to break the 1,000 barrier. The Crusaders, however, came up short against Central A&M 64-59 despite Hayer's late efforts.
Joe Gustafson (SHG Guard) The stats don't pop out to you (just 12 points in the win) but it was when the Warrensburg-Latham transfer got his points that was so important for the Cyclones. With about a minute to go in the game against MacArthur on Saturday and the Cyclones trailing all game, Gustafson forced a turnover, pushed it ahead to Nick Broeker then got it back for an and-one layup to give SHG their first lead of the game. The Cyclones would go on to win 63-62, with Gustafson's effort ending up being a game-changing play.
Aryanna Harris (Lutheran Basketball) Hayer wasn't the only Crusader with a milestone this week. Aryanna Harris, a former Saint finishing her career with the Crusaders in their girls hoops co-op, notched her 1,000th point in a big way on Saturday. Harris had 25 points in a 50-39 win over Downs Tri-Valley, hitting four 3-pointers in the process. The Crusaders are off to a great 13-2 start.
Jason Hansbrough (Glenwood Guard) His output on the stat sheet was modest (just 15 points on 6-8 shooting), but just getting the junior guard back in the lineup was a game-changer for the Titans. Hansbrough set the tone for Glenwood in their 69-52 win over Springfield High Friday night, and will be a vital piece for Glenwood moving forward.