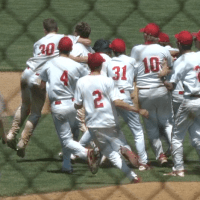 Jacksonville was up 3-1 on Glenwood with one out in the bottom of the seventh inning, two outs from their second massive upset of the week at the 3A Glenwood regional. But apparently Titans senior center fielder Todd Fowler doesn't like those David beats Goliath stories.
Fowler crushed a game tying two run home run to left field to tie the game at 3-3, sending the regional title game to extra innings. In the bottom of the 11th, Graham Bender launched a bases loaded, full count base hit over the head of the left fielder to give Glenwood the 4-3 lead.
For the Titans, they escaped unscathed from a game in which standout starting pitcher Jacob Maton conceded three runs in the first two innings. The win moves them to next week's Decatur MacArthur sectional semifinal.